ABOUT US
Caraballo Business Licensing Services is owned and operated by Anthony Caraballo. Our company has over 25 years of experience serving the business licensing needs of restaurants, cafes, liquor stores, taverns, bars, grocery stores, delicatessens, and supermarkets. Caraballo Business Licensing Services has obtained THOUSANDS of licenses. The company offers a proven track record of efficiency with a reputation for honesty and integrity.
We look forward to serving all your business licensing needs.
Proven Track Record of Efficiency with a Reputation for Honesty and Integrity
Rapid & Timely Filings
Courteous & Professional Services
Utmost Client Convenience
Diligent Follow-Up on Pending Applications
Meticulous Attention to Detail
Over 25 Years of Filing Business License Applications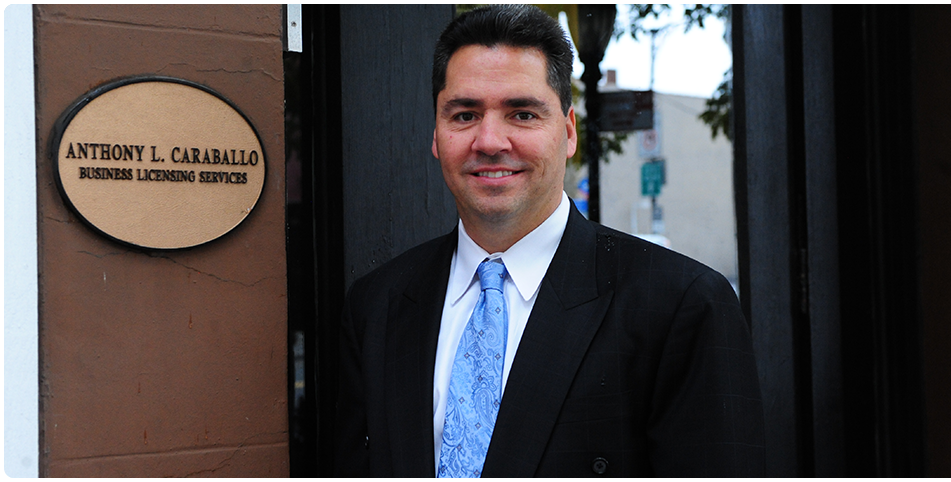 Communication
You will be informed about the application and renewal process of licenses at all times. To us, you are very important, so you will know exactly what to expect.

Awesome Support
Our staff is a team of professionals enjoyable to work with. You only have to answer some questions and we handle everything. You do not have to worry about the maze of documents.

Proficiency
Our main strength is the experience of our team of professionals and mastery over the application and licensing process. This represents a clear advantage by reducing time and costs.

Client Management
We take care of all the paperwork related to the liquor license for your business. You can leave the whole application process in our hands as we provide maximum efficiency.
With Anthony's knowledge and direct assistance, I received my restaurant-wine license quickly, smoothly and with no agitation. I highly recommend Anthony and his team to all my fellow entrepreneurs. He gets the job done right!
Carleen Haughton
(Bristen's Cafe, Inc.)
Anthony and his staff are wonderful. They made me feel like I was part of the family. Service is incredible and Anthony is a gentleman in every way. My license was taken care of in a timely fashion. Their service is #1. Anthony, thank you for everything you have done for me, my business and my family. Dreams do come true.
Steven Palermo
(S D P Restaurant Inc.)
I have only good things to say about Caraballo Business Licensing Services. Anthony works quickly and hard for his customers. He always has the time to give answers for your questions and his staff speaks more than English, which made it easy to communicate.
Witold Prenkiewicz
(W & W Wines and Liquors, Inc.)
I can't imagine the process being any easier or smoother than the experience I had. Anytime I had a question I'd call or e-mail Anthony and he would get back to me with an answer the same day. Using a liquor license representative as experienced as Anthony can save you lots of time, money & sleepless nights.
Debbie Summer
(Fermented Grapes, LLC)
All I can say is that over the past 10 years that I have known Anthony and his staff, they have been great professionals: extremely friendly, helpful and great people to go to for our professional business needs. The entire office staff is not only friendly and helpful, but great people too. I highly recommend all my friends to Anthony Caraballo.
Munawar Syed
(211 Enterprise, Inc.)
I decided to buy a convenience store, but little did I realize the licenses and paperwork involved. A friend suggested that I call Anthony Caraballo. They were so helpful, always available & extremely knowledgeable. I was able to get my liquor, tobacco, food and lottery licenses quickly and without much fuss. The cost was reasonable. Use a professional and save time, money and a headache. Hats off to Caraballo Business Licensing Services!
Grace Scher
(Scher Delite Inc.)
We found Mr. Caraballo and his staff to be very professional and they always made themselves available to us. All phone calls were returned in a timely fashion and we were constantly kept abreast of all proceedings. We have recommended him to other people, because we feel he gets the job done in a very timely fashion, in fact we will be using him for our next license.
Justin Lozza
(Justwin Inc.)
I have been a client of Anthony Caraballo's for a few years and I find him to be attentive, courteous and efficient. He has always returned calls promptly and discussed intelligently any situation that has arisen. He has brought an educated opinion to any and all problems. I would definitely recommend him for any SLA work.
Pamela Prince
(Bogart's on Park Inc.)
Anthony provided The Liquor Cabinet with its liquor license. He took a multitude of applications & processes and provided a step by step, informed outline. His aggressiveness in following up allowed me to be informed at each step.
Vincent Scotto
(The Liquor Cabinet, Inc.)
I immediately consulted Anthony Caraballo for his long known reputation as an efficient, well organized firm. I was satisfied with his services, which well exceeded my expectations. If there was a scale from 1 to 10, I most definitely would give Anthony an 11!
Kanda Vichirabanjong
(Spice City, Inc.)